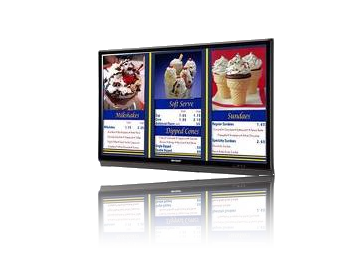 In restaurants, the most common use of digital signage is in the menu boards. The menu boards are generally placed outside the premises, but there are also some fast food joints which keep these menu boards inside the set-up. There are various reasons as to why this technology is being profusely used in the food industry. The most important reason as to why touch screen signage is used is that the food items look a lot more attractive when displayed in the LCD screens.
For example, when food items are displayed in these screens, you can add to the effect of steam coming out from the food item. Such a technique is absolutely lip-smacking. Moreover, it is also possible for the customers to browse through the portals and find a food of their choice.
Besides giving an appealing look to the food items with digital signage, the customers can also have an idea as to how the food item looks like. It is also possible for them to have a glance at the prices of the various food items which are available in the food joint.
At this juncture, it can be said that if the touch screen signage is placed outside the eating joint, the customers have the option of checking out the prices before entering the joint and proceed further if the prices go well with their pockets.
Another benefit of using digital signage in the restaurants is that it has the ability to change the content as and when required. In other words, scheduling of the content according to the time of the day is done automatically in the signage technology. This proves to be a great boon for the food industry because the menu changes accordingly. For example, when it is lunch time, the food on offer is displayed and the customers might get attracted seeing the images. Moreover, the guests need not wait in a queue to place the order.
They can do so by keeping their fingers on the touch screen device. In short, the menu cards may get replaced soon by the digital menu, which would be more convenient for the customers.